SleekEZ Original Deshedding Grooming Tool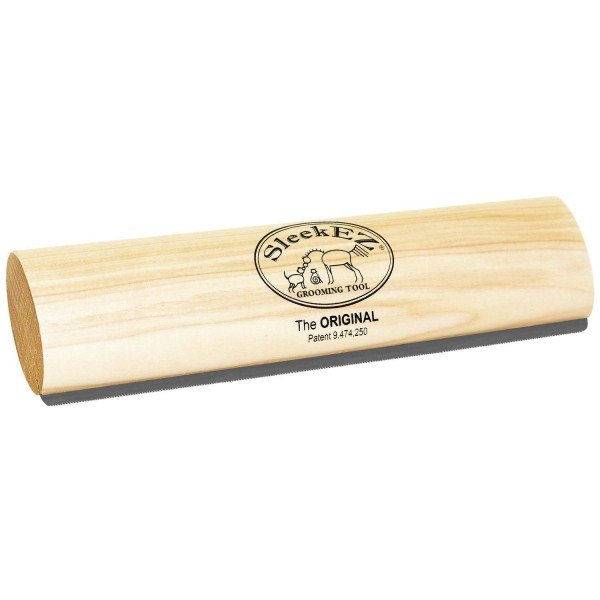 Patented Wave Pattern Blade. Made from premium high carbon steel that safely and gently removes loose hair, dirt, and dander without snagging or irritating your pets skin or damaging their coat.

Crafted with Ergonomics in Mind The smooth, easy to grip poplar wood handle fits comfortably in your hand during grooming sessions.

Simple & Effective. From Shabby to Sleek in just minutes. Enjoy 95% less shedding after just one use. Keep your house cleaner and your pets from itching.

Multi-Purpose. Great for removing pet hair from cars, furniture, carpets, blankets, pet beds, and more.

Proudly Made in the USA. Lifetime Warranty.
Product details
Size: 10 inch
Product Dimensions: 8.5 x 1.5 x 1 inches ; 3.04 ounces
Shipping Weight: 8.3 ounces ()
ASIN: B00VC87KYI
Item model number: 26621
Size:10 inch
So simple, so effective we are sure that you will be telling your friends about your SleekEZ. Shed loose hair and embedded dirt and dander from the coat year round without irritating the horse. We promise that you will be completely in love with this item come shedding season and all year long. No honing the edges required and the 10-inch length allows users to use two hands and quickly remove unhealthy/dead hair, dirt and dander. Just simply swipe the metal teeth with a soft horse brush from your tack box to remove dirt build up, continue brushing and see that sleek pony appear SleekEZ's handle is constructed of poplar wood treated to protect it in the outdoor environment. The comb is designed with a unique, patented tooth pattern exclusive to SleekEZ this unique tooth pattern is created to be used on a variety of coats from fine to course and long to short. It extremely gentle, yet highly effective. Our exclusive blade will not cut the hair or damage the coat you will not find grooming tool like it on the market regardless of any others claim.