API STRESS COAT Aquarium Water Conditioner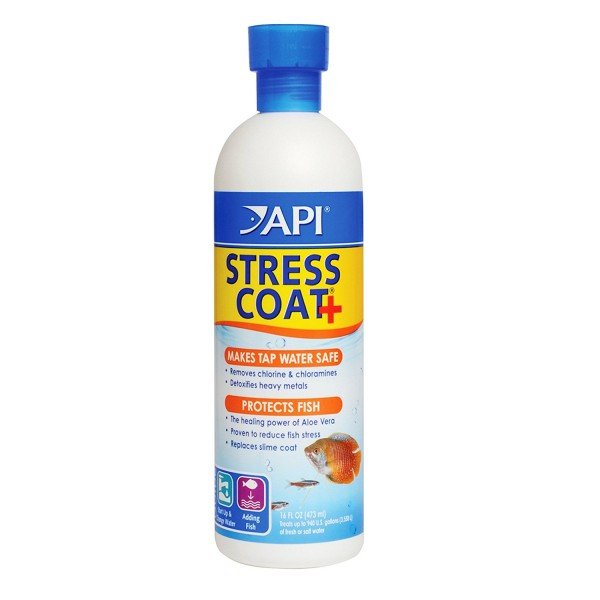 Contains one (1) API STRESS COAT Aquarium Water Conditioner 16-Ounce Bottle

Makes tap water safe and protects fish with dual-action formula

Removes chemicals from tap water that are harmful to fish

Replaces fish?s protective coat damaged by handling, shipping or fish fighting with healing power of Aloe Vera extract

Use when adding or changing water, when adding new fish and when fish are sick or injured
Product details
Size: 16-Ounce|Style: Freshwater
Product Dimensions: 5 x 1 x 5 inches ; 6.4 ounces
Shipping Weight: 1.2 pounds ()
ASIN: B000255MZG
Item model number: 85C
Size:16-Ounce | Style:Freshwater
Product Description
Treat your tap water, and provide a safe environment for freshwater fish instantly and easily with API STRESS COAT Freshwater Aquarium Water Conditioner. Tap water contains chlorine, chloramines and ammonia which can cause gill and tissue damage, breathing difficulty, stress and death. API STRESS COAT Aquarium Water Conditioner works instantly as a water conditioner to remove chlorine and chloramines from tap water and neutralize heavy metals. API STRESS COAT Freshwater Aquarium Water Conditioner Treatment contains aloe vera, and it is scientifically proven to reduce fish stress by 40% and heal damaged fish tissue. This conditioner replaces the natural secretion of slime that is interrupted by handling, shipping, fish fighting, or other forms of stress and helps heal torn fins and skin wounds while promoting tissue regeneration. API STRESS COAT is recommended by professional fish handlers. With API Aquarium products, it?s easy to keep a beautiful saltwater, freshwater or reef aquarium. For over 50 years, API has been creating innovative, research-driven solutions that make it easier to care for your fish and aquarium. API Aquarium Treatment Supplies are designed to work in conjunction with each other to provide best results to control algae, promote healthy bacterial growth and help control and cure fish diseases and conditions such as ich and fin rot. They work to provide a safe, hospitable environment for fish such as tropical community fish, cichlids, goldfish and more. With API, you can spend more time admiring your fish, and less time scrubbing your tank. Make sure to use all products as directed in order to ensure the best results.
Amazon.com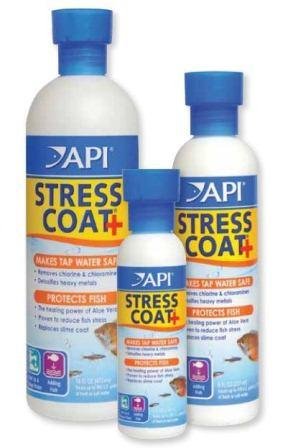 Features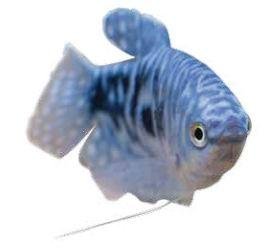 MAKES TAP WATER SAFE
Removes chlorine & chloramines
Detoxifies heavy metals
PROTECTS FISH
The healing power of Aloe Vera
Proven to reduce fish stress
Replaces slime coat
---
Benefits
Removes chlorine, chloramines and heavy metals to make tap water safe for fish. Contains Aloe Vera, which promotes healing and regeneration of damaged fish tissue and forms a synthetic slime coat to help prevent electrolyte loss. Proven to reduce fish stress, which can result from changing water, poor water quality and handling fish. High stress levels can cause a weakened immune system and poor health. STRESS COAT is proven to reduce fish stress by 40%.
---
Directions:
Add 5 ml per 10 U.S. gallons (38 L) of aquarium water. Double the dose to replace slime coat and to repair damaged skin and fins.
---
API makes it simpler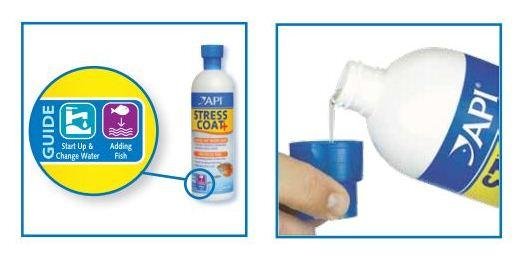 Follow the API EASY CARE GUIDE steps to simply care abour your aquarium.
Start up & Change Water: Tap water contains chemicals, such as chlorine, chloramines and heavy metals, which are harmful to fish. Use STRESS COAT when starting a new aquarium and whenever changing or adding water.
Makes tap water safe
Adding Fish: The transition from store to home is stressful for fish. When fish are stressed, they can lose their protective slime coat, which makes them susceptible to disease. STRESS COAT acclimate & protect fish.
---
Proven Efficacy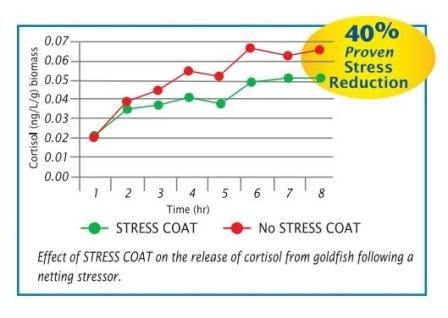 Testing proves that STRESS COAT reduces stress in fish
Stress is the leading cause of poor health and disease in aquarium and pond fish. Fish are stressed by netting, bagging, fighting and poor water quality. A fish's slime coat protects against disease and helps heal small wounds but is often disturbed by netting, fighting and accidental scrapes. Stressed fish are highly susceptible to disease problems because their immune system is suppressed. When fish are stressed their body produces a stress hormone called cortisol. Cortisol is a measurable indicator of fish stress. Corticol is released into the aquarium waters through gills and urine.
In this test goldfish were netted and moved to a series of individual aquariums. Next half of the fish were treated with STRESS COAT and half were untreated. The stress hormone cortisol was measured over time in treated and untreated aquariums. THe results showed a statistically significant 40% reduction in cortisol in the STRESS COAT-treated fish compared to the untreated fish.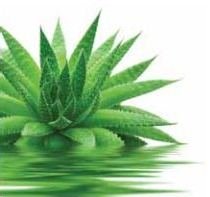 STRESS COAT promotes healing of damaged tissue
In another test fish with similar wounds were separated into two groups. One group was treated with STRESS COAT. The second group was left untreated. Veterinarians later examined the wounded tissue and determined that the STRESS COAT treated fish had healed significantly faster than the untreated fish.
STRESS COAT with Aloe contains natural healing proteins and minerals, similar to a fish's natural slime coat. STRESS COAT replaces a fish's damaged slime coat with a protective healing layer or natural aloe extract. STRESS COAT acts as a bandage, speeding the healing of damaged tissue.
---
Other Items to Consider when Starting an Aquarium
or Changing Water: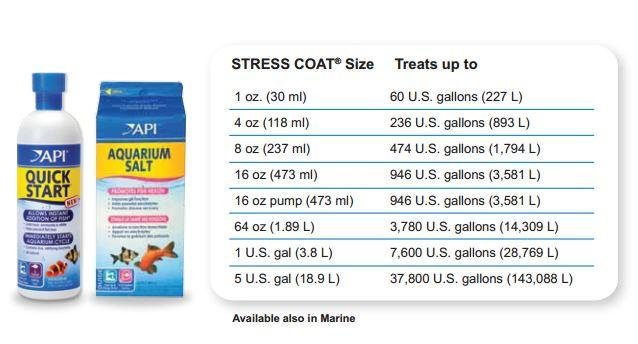 QUICK START

Allows instant addition of fish
Immediately starts the natural aquarium cycle
Reduces harmful ammonia and nitrite at start up
Helps prevent fish loss
AQUARIUM SALT

Promotes fish health
Promotes healthy gill function; improves fish respiration
Adds essential electrolytes fish need to reach peak coloration and health
Promotes disease recovery