Ring Chime Pro, Indoor Chime and Wi-Fi Extender ONLY for Ring Network Devices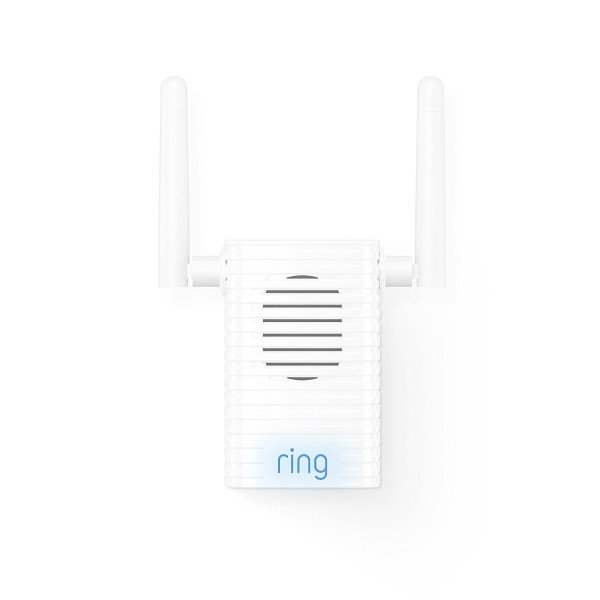 to make sure this fits.

Extends the Wi-Fi signal from your router to your Ring devices.

Amplifies notifications from connected Ring Video Doorbells, Video Doorbell Pros and Stick Up Cams.

Plugs into any standard wall outlet.

Comes with multiple alert tones.Connectivity:802.11 b/g/n Wi-Fi connection @ 2.4GHz only

Mobile volume control and Do Not Disturb mode.

Please Note: Kindly refer the User Manual before use.
Style:Extender
Chime Pro extends the signal from your router to your Ring devices, so you can eliminate Wi-Fi dead zones and ensure that your Ring devices stay connected to the internet. It?s also an indoor chime that amplifies Ring notifications, so you?ll never miss an alert.
Chime Pro can be set up in just a few minutes. Simply plug Chime Pro into any standard power outlet, link it to all your Ring devices, and you?re good to go. With Chime Pro, you?ll never have to worry about your Ring devices going offline, and you?ll always know when you have a visitor.
Chime Pro strengthens the Ring of Security around your home by creating a more reliable network for your Ring devices, so you?ll always have dependable home security at your fingertips. Chime Pro links to an unlimited number of Ring Video Doorbells, Video Doorbell Pros, Stick Up Cams and Chimes for an unrivaled Ring experience