Lady Miranda Pure Color Jumbo Braid Synthetic Hair Extensions 41" 165 g / Pc (Purple3)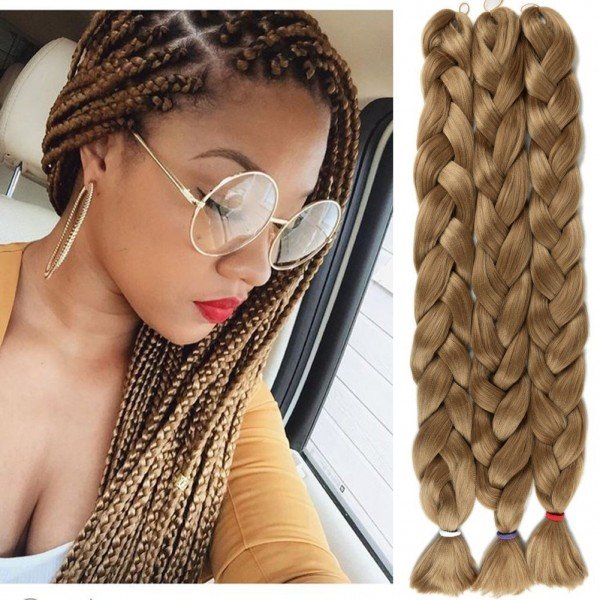 Item Material: High-Quality Heat Resistant Fiber Hair

Model Number: Pure Color Jumbo Braid Synthetic Hair Extensions

Unit Weight: 165 g/Piece 41Inhes

Entire Head: Recommended purchase 5-6 pcs for full head

Function: it can be used for daily use, theme party, cosplay, or any other occasion
Product details
Color: (Light brown3)
Shipping Information:
Model: BP071NM6N6G
UPC: 761330515007
You can cut them blower(cold air) or hair stick (better, not high temperature)to change the style your self
You can cut or trim to the styles you like.
The Hair stylish design with natural looking and soft touch. You can wear it to parties or for daily use.
Brush off all the hair tangled before washing, Do not rub, scrub, bunch your hair either while washing it.
Do add a leave-in conditioner after washing too, Never sleep with wet hair and you may wrap it before sleeping on it to prevent tangling.
Fast and safest shipping?Calculate your shipping cost by country/region and quantity.
Note: Shipping costs shown include fuel surcharges. Import duties, taxes, and other customs related charges are not included. Buyers bear all responsibility for all extra charges incurred (if any).
The color might be slightly different due to Material, Shooting Light, Camera Pixels and Personal Understanding of Color Difference, the picture is only for reference.
The product may be squeezed during transport, but don't worry, it will become what you want after taking a little care of it. Have a nice shopping day!