Fisher-Price Nickelodeon Blaze & the Monster Machines, Monster Dome Playset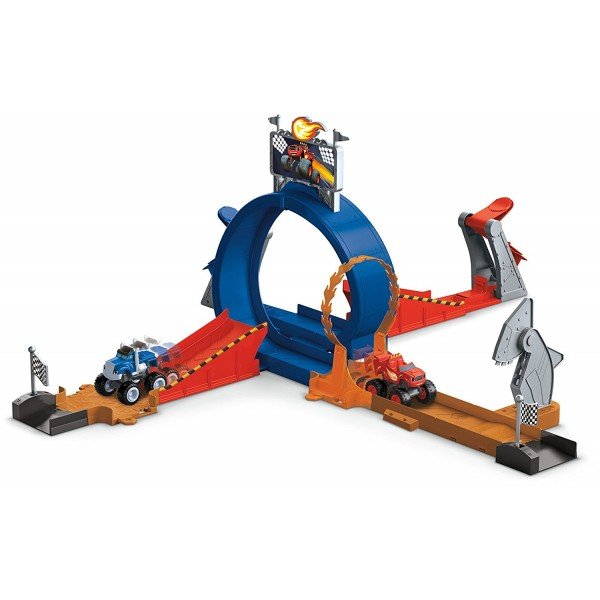 to make sure this fits.

Blaze fans will love recreating Race Day at the Monster Dome!

This track set can be configured and customized into multiple layouts!

Create a side-by-side race between Blaze and Crusher!

Two launchers send your Monster Machines speeding around the track and into spectacular stunts!

Launch through the ring of fire and speed past the chomping Sharkbot!
Product Description
It?s Race Day at the Monster Dome and crafty Crusher will stop at nothing to beat Blaze... even if that means building a chomping Sharkbot! Will Blaze race past the shark?s mighty bite and speed on to win the race or will Crusher finally cross the finish line first? This track set can be configured into multiple layouts so race fans can recreate all the action and adventure of Blaze and the Monster Machines! Create side-by-side races between Blaze and Crusher or customize your set into champion courses of your choice! Using the two launchers, see if you can give the Monster Machines the speed and momentum they need to race around the track and perform spectacular stunts! Try to launch the trucks up the ramp and into a 360° loop or speed through the ring of fire! The Monster Dome Playset includes Blaze and Crusher vehicles. Ages 3+
Brand Story
By Fisher Price