Honeywell Filter A HRF-AP1 Universal Carbon Air Purifier Replacement Pre-Filter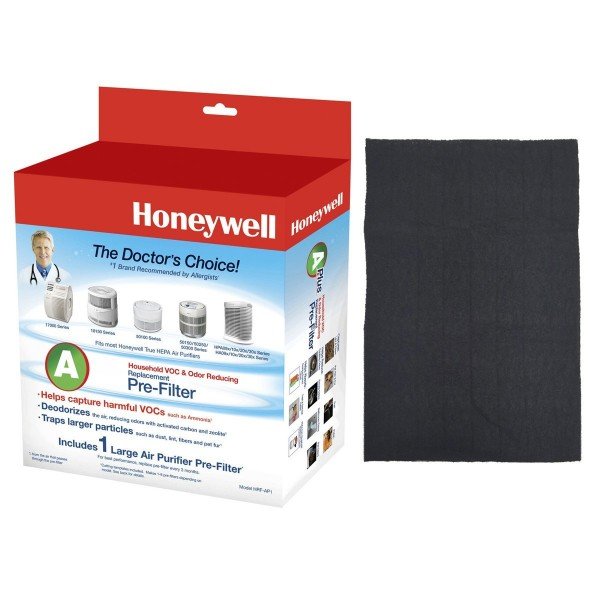 to make sure this fits.

Nullify

Imported

Honeywell, filter a, universal activated carbon pre filter, helps reduce Common household odors

Fits all Honeywell Round, QuietCare & SilentComfort Series air purifiers; 50000 series, 17000 series, 18150 series, 40100 series, 40200 series & HPA100,200,300 series consoles. (Does not fit HPA towers).

Helps deodorize the air and trap larger particles such as dust, lint, fibers and pet fur

Reduces common household odors with activated carbon. Perforated design makes 1 to 8 pre filters depending on the model

Adds Extra shine to your product. Replace every 3 months.
Size:1-Pack
Product Description
Kaz is a state of the art, dynamically-managed, global leader in healthcare devices and home comfort products that operates in over 65 countries on six continents with a brand portfolio that includes Vicks, Honeywell, Braun, and more.
Amazon.com
1. Choose the best air purifier for your needs

| | | | | | |
| --- | --- | --- | --- | --- | --- |
| | = recommended | | = acceptable | | = not recommended |

Doctor Recommended for Allergen Reduction
For General Air Cleaning
True HEPA Allergen Remover
HEPAClean®
QuietClean®
AirGenius®

| | |
| --- | --- |
| Smoke | |

| | |
| --- | --- |
| Pollen | |

| | |
| --- | --- |
| Dust | |

Pet
Dander

Mold
Spores

| | |
| --- | --- |
| Germs | |

| | |
| --- | --- |
| Odors | |

| | |
| --- | --- |
| VOCs | |

*Purchase "K" pre-filter for QuietClean® Odor and VOC Reduction

2. Choose your room size

Length x Width = Total Square Feet

True HEPA
Allergen
Remover
HEPAClean®
QuietClean®
AirGenius®
Small


51-99 sq. ft.

Medium


100-145 sq. ft.

Medium-Large


146-199 sq. ft.

Large


200-349 sq. ft.

Extra Large


350+ sq. ft.

3. Find the right replacement filter

True HEPA
Allergen
Remover
HEPAClean®
QuietClean®
AirGenius®
Pre-filters


captures large particles/reduces odors

Medium
captures allergens/
small particles
Permanent
Washable
Permanent
Washable