Honeywell HFD-120-Q QuietClean Tower Air Purifier with Permanent Washable Filters
to make sure this fits.

Whisper quiet operation that can still effectively circulate the air throughout the room

LED touch button control panel with three speeds;ARB Certified to comply with federal ozone emissions limit

Electronic filter check indicator reminds you when the filters need to be washed

Washable filters - simple rinse filters with water and let dry

To ensure stated product performance, use only Genuine Honeywell Replacement Filters.
Style Name:Air Purifier
Product Description
Permanent IFDAir Purifier with filter that is washable and vacuum-able & never needs replacement!
Amazon.com




The HFD-120-Q offers these great benefits:

The Honeywell QuietClean Tower Air Purifier features permanent filtration that effectively removes up to 99% of airborne allergens, 2 microns or larger. The HFD-120-Q captures up to 18 times more pollutants than ionic air purifiers and effectively circulates the air up to 5 times an hour!



3 cleaning levels
ENERGY STAR® rated
Washable filters
On/off oscillation control
AHAM Certified
Dust CADR: 100
Smoke CADR: 110
Pollen CADR: 132
Room Size: 17'x10' (170 sq ft)

The Honeywell True HEPA Allergen Remover circulates the air in a medium-sized room up to 5x an hour!






The HFD-120-Q features both a permanent pre-filter and a HEPAClean filter that work together to remove up to 99% of airborne allergens.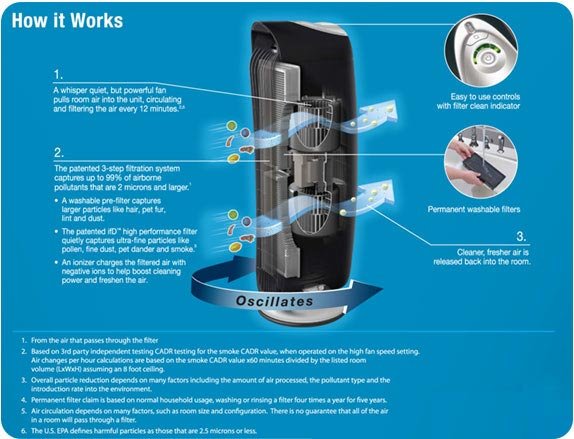 Exactly how small is 0.3 microns?

Give your family clean, fresh air!